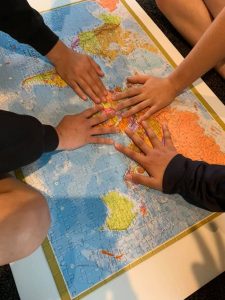 Photo credit: Meggy Bartlett-McBride
· Every person entering New Zealand from anywhere in the world will be required to self-isolate for 14 days, excluding the Pacific[i]. '
· These restrictions will all be reviewed in 16 days' time.
· Existing travel ban retained for China and Iran
· Cruise ships banned from coming to New Zealand, until at least 30 June 2020
· Strict new health measures at the border for people departing to the Pacific
· A range of measures to assist those in self-isolation to be announced next week
· Government will work closely with the aviation sector to encourage airlines to remain active in New Zealand, limit impacts on the tourism sector and exporters
· Directive on mass gatherings to be announced early next week
By Mel Fernandez
The government has announced a range of "far-reaching and unprecedented" border restrictions designed to further protect the health of New Zealanders and decelerate the threat of transmission of Covid-19 in New Zealand.
Prime Minister Jacinda Arden said that "as of midnight on 15th March every person entering New Zealand, including returning New Zealand citizens and residents, will be required to enter self-isolation for 14 days. Everybody."
A range of measures to assist those in self-isolation will be announced soon.
She added that the Pacific are exempted from this measure. But there are new health measures at the border for people departing to the Pacific.
These restrictions will all be reviewed in 16 days' time.
The existing travel ban for China and Iran will be retained.
"Alongside Israel, and a small number of Pacific Islands who have effectively closed their border, this decision will mean New Zealand will have the widest ranging and toughest border restrictions of any country in the world," the Prime Minister revealed.
"We are also encouraging New Zealanders to avoid all non-essential travel overseas. This help reduces the risk of a New Zealand bringing COVID-19 back with them.
"We accept that for New Zealanders currently overseas this is a stressful time and we encourage any New Zealander needing consular assistance to contact the Ministry of Foreign Affairs.
"The Government will work closely with the aviation sector to encourage airlines to remain active in New Zealand, limit impacts on the tourism sector and exporters.
"We did not take these decisions lightly," said the PM. "We know these travel restrictions will place significant strain on the aviation industry, and we anticipate some routes will reduce or cease for a period of time.
"As such the Government will work closely with the aviation sector to encourage and support airlines to remain active in New Zealand so that we can re-bound from the restrictions quickly and not have significant impacts on our tourism sector, exporters, and economy.
"In addition to restrictions on air travel we are also taking firm measures on cruise ships. As of midnight tonight we are issuing a directive to all cruise ships not to come to New Zealand until at least 30 June 2020, at which time the directive will be reviewed."