savour the bountiful spread on banana leaves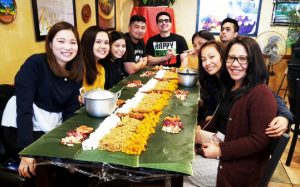 Exploring your 'primal roots'.
By Mel Fernandez
First appeared in www.travelgalore.nz
Photo credit: Mel Fernandez @ Gold Ribbon Restaurant
AUCKLAND – Are you a foodie who's already been there and done that? How about going back to basics and exploring your 'primal roots'? The challenge of eating with your hands the way our forebears did?
But it's not for the squeamish – as no silverware is allowed. But I assure you that you will have a good time trying something unconventional. Mind you, many among us who hail from Asia and are familiar with this practice will swear that food tastes better when you eat it with your bare hands.
The so called 'Boodle Fight' is sought after in some restaurants in the Philippines and now this trendy dining style is catching on around the world – the US, Middle East and even New Zealand. According to café owner Reynald Ricafrente: "we introduced the 'Boodle Fight' at Gold Ribbon Restaurant as a Father's Day Special promotion in September 2014 and it became popular with our customers. So we've included it on our menu, but you have to pre-book at least a day in advance."
The origin of the 'Boodle Fight' phenomenon is the traditional Philippine military 'eating combat', held on special occasions as a fun activity. A long row of adjoined tables are covered with banana leaves and piled high with rice, noodles, fried fish and other delicacies. The troops dine on their feet using their bare hands. But there's no drama as jugs of water are within reach to rinse their hands with before and after the meal.
When restaurants began introducing this special event the basic 'Boodle Fight' menu was upgraded into a lavish feast. "We have three choices; the Boracay, El Nido and Panglao menus, named after our top beaches in the Philippines," says Reynald. "They are a combination of seafood, meat/bbq, vegetables, noodles, salads, sago gulaman for the drinks and our famous homemade ube ice cream for the dessert."
The combat element has also been downgraded, so there's no rush to chow down the food. You can sit leisurely at the table with your mates and savour the bountiful spread laid out on the banana leafs. Is it any wonder the 'Boodle Fight' is growing in popularity?
Enjoy.