By Bernadette Basagre
Video credit: Russell Siayngco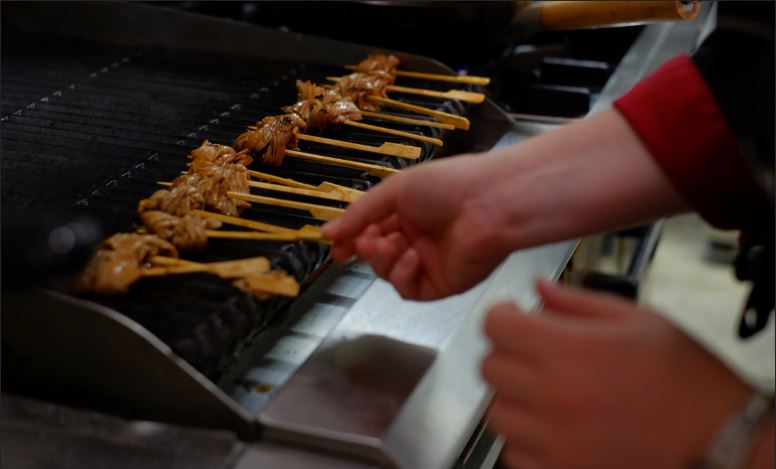 Coming to New Zealand with only $1000, Angel Apun has taken her passion project and made it into a successful reality.
Luntian is the first pop up business that is a vegan twist on our beloved Filipino food. The reinvention of our everyday, common meals has become a huge hit in New Zealand, with Luntian selling out and receiving great reviews.
With a Filipino-Japanese heritage, from Bicol and moving across Asia, Apun has been able to take her many life and cultural experiences with her as a basis to create and birth Luntian from.
With food ranging from Isaw made from the skin of tofu to her 'kunyare fried chicken'/'pretend fried chicken' or KFC for short, that takes five days to make, Luntian has become a fan favourite everywhere she appears.
With a variety of Asian culinary experiences, Apun has won the 2019 Grand Prize of EPAC's Vegan Cooking Competition with Ginatan – a vegan treatment of our classic Ginataang Kalabasa (pumpkin curry).
During lockdown, Apun harnessed out of the box thinking ways to run her business and came up with a contactless pickup and delivery form of business solution. Due to the overwhelming popularity of this format, the vegan 'KFC' was sold out to a point that Apun had to turn customers away. This has since continued in her post-lockdown activity, where Luntian also saw another sold out event.
Recently Apun has been able to see success overseas, crossing the Tasman with a collaboration with the Australian Filipino Food Movement to share her revolutionary recipes digitally with our neighbours over Instagram.
Apun has always been a strong activist championing crucial issues since a young age, even attending movements and protests during university. She also kept it a secret that she was studying political science at UP to her parents to achieve her dream of working for the United Nations. Despite not graduating with a political science degree from UP, Apun graduated from the University of Santo Tomas with a degree in Asian Studies, enabling her to see the world through different perspectives and fueling her activist spirit.
Recently Apun has been very active regarding the black lives matter movement, speaking up about the inequalities that people of colour are facing within society on her social media.
"If we can't afford to give basic human rights, freedom, equality and fairness to fellow humans, then how can we manage to do that for the animals," Apun says.
Coming to New Zealand eight years ago, Apun has since gone vegan due to her love for animals, all thanks to her two bunnies. Her transition to veganism became a starting point for her activism for animal rights, in which she uses her Luntian platform to spread that awareness whilst also sharing the joys of Filipino food. With more events lined up, Apun is hoping to use the experience to give people in Australia and New Zealand the opportunity to know Filipino food through vegan options.
Taking up this niche passion project early this year, Luntian has been able to grow quickly with over 1,600 followers on Instagram alone, to date. Apun has been able to successfully grow her business due to her previous marketing and sales experience. With no employees yet, Apun relies on the help of friends and family who believe in her and her ethos of kindness and compassion, to run her business.
This ethos of kindness strongly follows Apun, Luntian and her life based on her own experiences. When coming to New Zealand she was ill-advised that $1000 was enough for her to survive on for a month until she found a job in no time, as she was 'highly skilled'. However, she faced the real music when coming to New Zealand. Compared to her easier lifestyle back in the Philippines, she had to work scrubbing factory floors and living on Doritos for a week to survive. Facing these hardships, Apun was able to meet some people who were kind, helping her get back on her feet and support herself. From this she has since believed in an ethos of paying it forward, a kindness you receive you also give.
After the hardships she faced on her arrival in New Zealand, Apun has worked closely with the Filipino migrant community as a mentor to help those arriving in New Zealand with job searching, advice and many more things.
Apun has used her platform to innovatively promote what she stands for and as a passion project Luntian has become the forefront of a movement to pay it forward with kindness by helping others and fighting for what is right.
Keep a look out for Luntian's future events by following their social media and experience Filipino Cuisine the kind and compassionate way.
Keep a look out for Luntian's future events by following their social media and experience Filipino Cuisine the kind and compassionate way.