#FILIPINO FOOD ENTREPRENEURS

Erik Sia
By Mel Fernandez
AUCKLAND – Last year, in the shadow of an unpredictable pandemic and encountering an increasingly competitive business environment, several food entrepreneurs were forced to shut up shop permanently in the Auckland region. But surprisingly, in parallel with the aforementioned scenario some gutsy operators were gearing up to expand their operations, primarily to fill the gaps left in the market.
Take the example of Filipino immigrants Erik and Victoria Sia, the brains behind Auckland based Victoria's Kitchen Ltd, who have always been upbeat about the future of the restaurant and food service industry. The hardworking pair are now on track to setting up a chain of eateries bearing their famous 'HomeCooked Filipino Food' brand.
The success secret of their enterprise according to Erik is to serve up nostalgia on a plate. "We offer punters the nostalgia of family–style home-cooked food with a high culinary standard at a reasonable price.
"We serve purely traditional food without any fusion elements," says Erik Sia. "This ensures that our Filipino clients get a nostalgic taste of home. Inevitably they will introduce our Filipino dishes to the locals as well.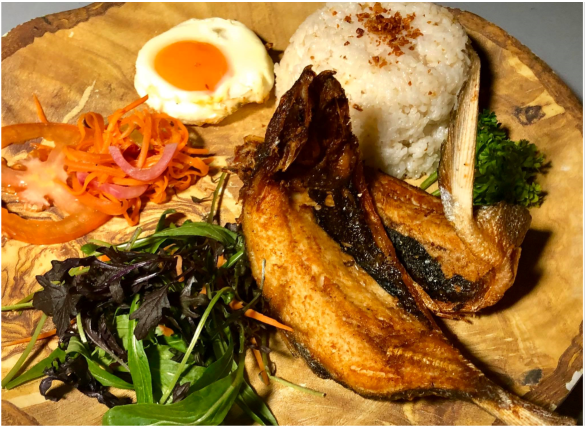 "Our eateries have built a reputation for serving authentic Filipino dishes and the flavours come from the province of Pampanga which is rated as the 'The Culinary Capital of the Philippines'. Our crowd pulling Pampanga style dishes are legend – sisig, adobo, beef caldereta, crispy pata and grilled barbecue."
Some would say that the business model of this indefatigable pair is faultless. First and fore-most they have the right product in the bag. And they have taken baby steps to grow their enterprise – initially focusing on entry level fiestas and community events where they offered good, authentic Filipino food at a reasonable price.
As the fledgling business gained name recognition in the marketplace and built a loyal clientele for its catering arm it was time to think of jumping a little higher.
In tandem with the rapid increase in Filipino migration to New Zealand the pair decided to seek premises in strategic locations to offer their sought-after unique street food experience.
Then to further differentiate their new eateries from the crowd they resolved to launch three distinct brands – a 'turo-turo' style takeaway, a fast casual dining food court outlet and finally a swanky restaurant – in order to soak up the pent-up demand for nostalgic food and to cater to their consumers' likes and preferences.
They saw an opportunity to open the first Filipino outlet in a food court in Wairau Valley on the North Shore – The Delicious Link Food Court. This has now become the go to place for fast casual dining and takeaway orders in close proximity to increasingly populous Filipino suburbs on the North Shore.
Next they opened a branch within the Taiping Supermarket in Wairau Valley – which is popular with Filipino shoppers. The concept here was reminiscent of the 'turo-turo' takeaways back home. This outlet has since been sold.
It was onwards and upwards when a HomeCooked branch opened at the cut above food hall – the Elliott Stables – right in the heart of Auckland City. The target market here was Pinoy city dwellers, workers and international students. It was also an ideal location to introduce and push the influence of Filipino food to Kiwis and tourists.
Like their fellow food entrepreneurs the Sia's business was impacted when Auckland was put in a lockdown. The pair were not phased, but were determined to bounce back when things settled.
When trading restrictions were gradually scaled back the Sias were first off the mark with delicious food combos offered at a reasonable price which punters could pick up at their outlets and they started gaining lost ground.
The New Year looks even brighter for the dynamic duo. It was time to achieve another of their goals – to open a signature restaurant where Pinoys could hang out and chill. An upscale 70-seat family Bistro in Mount Albert was launched recently. It is big enough to host special events with space for dancing and even has a VIP Videoke room.
Arguably Victoria's Kitchen Ltd is now the biggest Filipino restaurant group in New Zealand as they gear up to get their HomeCooked restaurant franchise operation up and running. "Based on our years of experience and deep industry expertise, we can offer fellow Filipino entrepreneurs a chance to replicate our unique street food experience throughout New Zealand," says Erik.
Expect to see yet another HomeCooked Filipino Food outlet opening near to you.