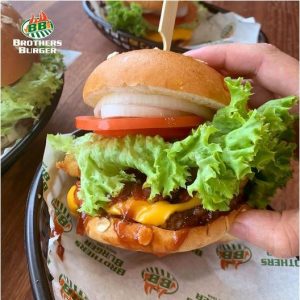 By Mel Fernandez, Food Editor (melfernandez@xtra.co.nz)
PENRITH, Australia – The Philippines' first flame grilled gourmet burger restaurant has opened its flagship international store in Penrith, New South Wales, Australia, on 04 December 2021.
A much-loved gourmet burger outlet, Brothers Burger, was launched in the Philippines in 1999.
"It pioneered the concept of designer burgers which are made to order with your choice of toppings and condiments on the burger, for example cream cheese, blue cheese, caramelised onions and so on," said DTI Sydney's Consul Commercial, Alma Argayoso.
Brothers Burger later on expanded its menu to include hotdogs, chicken wings, quesadillas and sweet treats.
Brothers Burger Australia Director Christine Elaine Jimenez said that the planning and training to launch the brand in Australia was undertaken amidst the lockdown and travel restrictions imposed by the pandemic.
It was a very busy first week for Brothers Burger as many Filipinos and the local community came out to try the new burger place in Penrith.
PH Ambassador De La Vega, who travelled to Penrith to congratulate Ms. Jimenez and her team, said: "Filipinos know good food and sharing our food is what we do best. We are happy to bring the Filipino brand Brothers Burger to Australia and to share the distinct Brother's flavours that have flourished in the Philippines over the past twenty years."