By Mel Fernandez, Food Editor
AUCKLAND – Filipino food cart giant Potato Corner officially opened its first franchise operation in New Zealand on 15 December 2021 at the Botany Town Centre Night Market.
"It's been long overdue for Potato Corner to enter New Zealand," said Gaston Zubiri, director of Spudsters NZ Limited. "And now we are finally here!"
Auckland's borders reopened on the same day, which was perfect timing for the celebration as patrons from nearby cities were able to attend and savour these famous flavoured French Fries.
"It has been an honour and a privilege to have contributed to bringing a leading Philippine-made brand on the global scene to New Zealand," added Meryl Co Chiong, a co-owner and General Manager of the operation.

Already at the soft launch on 18 November at the Henderson Night Market, Filipinos and locals were patiently lining up to satisfy their cravings for this world-famous Philippine potato snack.
"We appreciate all your support and patience," Co Chiong posted on Facebook. "We would like to apologize for the longer than expected wait times as we did not anticipate customers ordering up to $100 worth of fries in one go."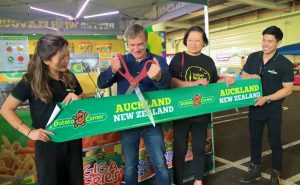 The popular potato snacks are now being quickly snapped up at Spudsters' weekly pop-up carts at the Auckland Night Markets in Mt. Wellington, Botany Town Centre, Henderson, Highbury Shopping Centre, Papatoetoe and Pakuranga.
Potato Corner is a global Philippine food franchise and has been a leading brand in the food industry for over 25 years. In 1992 the first Potato Corner store opened in SM Megamall.
In a recent podcast, Asia CEO, Potato Corner co-founder and chief executive officer Jose Magsaysay Jr. said that the company is in the process of ramping up its expansion plans.
Potato Corner has been serving spud lovers in Australia since 2016 and is continuously expanding its presence in the Oceania region.
Currently Potato Corner has over 1,400 stores worldwide. The bulk of the stores are located in the Philippines, but more than 200 are overseas.
In five to 10 years Magsaysay Jr. said that Potato Corner is looking at adding 1,000 more stores to the local market and 10,000 stores internationally.