Mabel's: Continuing the Legacy of Authentic Burmese Cuisine in Wellington
By Ricky Matthew
Photos supplied.
Wellington – Nestled in the heart of Wellington, Mabel's has been captivating taste buds and preserving the legacy of Burmese cuisine for over a year now. This cozy restaurant offers a unique dining experience where sharing and togetherness take centre stage. What makes Mabel's even more special is its connection to one of the pioneers of Burmese cuisine in New Zealand — Auntie Mabel, the grandmother of the restaurant's owner, Marlar Boon.
In 1978 Auntie Mabel introduced Monsoon, one of the first Burmese restaurants in the country. The rich heritage and culinary traditions passed down through generations have found a new home in Mabel's, a homage to Auntie Mabel's contributions to the Burmese food scene in New Zealand.
Thanks to pioneers like Auntie Mabel, both Wellington and Christchurch have the good fortune of having Burmese restaurants, with Christchurch boasting the Rangoon Ruby. Unfortunately, Auckland has yet to open its own Burmese eatery. However, there are exciting plans in place for Albany's Constellation Café to undergo a transformation and become Auckland's first Burmese restaurant.
Marlar shared her insights and vision for Mabel's in an interview, shedding light on the essence of the restaurant and its offerings.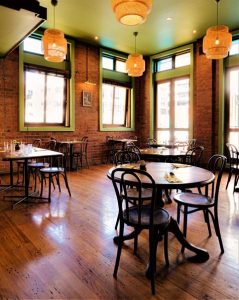 Mabel's is not your typical restaurant that categorizes dishes as entrees or mains. Marlar emphasizes the concept of eating everything together, like a family, encouraging guests to share and enjoy a variety of flavours in one sitting. "At Mabel's, what we try to do is encourage eating everything together. It's a great place to have a big group and share," Marlar explained. This approach aligns with common Asian dining customs, where a multitude of dishes are served simultaneously, allowing diners to savour a little bit of everything.
Marlar's personal preference echoes the restaurant's vision. "I like to have a little bit of my salad with my rice and a bit of curry or some fried fish. What we are trying to encourage is not a fine dining or casual dining experience, but a homely experience," she shared. The name 'Mabel's' itself evokes a sense of warmth and familiarity, inviting Wellingtonians to relax and enjoy their meal in a cozy ambiance.
The menu at Mabel's reflects the diversity of Burmese cuisine, with influences from the 135 ethnic groups that call Myanmar home. With an emphasis on sharing and accommodating various dietary preferences, Marlar has highlighted the abundance of curry options, drawing inspiration from Myanmar's curry houses that offer an array of flavours. The restaurant serves small bowls with different curries alongside rice or noodles, salad and fresh vegetables, allowing guests to create their own harmonious blend of tastes and textures.
While some might find certain Burmese dishes strong due to fermented ingredients and bold flavours, Mabel's has garnered a strong following, with one dish standing out as a customer favourite — the eggplant curry. Marlar explained that their vegetarian-friendly eggplant curry appeals to both locals and visitors. "We have a lot of vegetarians and vegans here, so the eggplant curry is popular because even if only one person at a table is vegetarian, the group will order it," she said.
Mabel's diverse menu caters to a wide range of palates and preferences. Whether it's the savoury and comforting 'Mohinga', a traditional Burmese fish noodle soup which Mabel's describes as "our beloved national dish", or the delicacy 'La Phet Thoke', "one of the world's most unique and unknown dishes that offers fermented green tea leaves with several vegetables and condiments alongside".
Bursting with unique flavours, Mabel's offers an authentic culinary experience that transports diners to the heart of Myanmar.