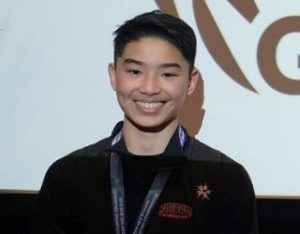 Kenzo Santayana vaults to success in national gymnastics championships
By Staff Writer
Filipino Migrant News congratulates Kenzo Santayana for his sporting achievements and in recognition of his phenomenal success will be presenting him with the 2019 Filipino-Kiwi Hero Award for Sports Achievers.
AUCKLAND – Young Filipino-Kiwi gymnast Kenzo Santayana cherishes fond memories of his 15th birthday in October this year, as on that very day he emerged as New Zealand's 2019 National Champion in Men's Artistic Gymnastics Level 7.
Additionally, he was declared the 2019 Gymnast of the Year for Levels 7, 8 and 9 in NZ's Gymnastics Championships, held at the Trusts Stadium Arena in Auckland.
What makes this victory more significant is its back to back nature – because Kenzo was also the 2018 New Zealand's National Champion in Men's Artistic Gymnastics.
In February this year Kenzo represented New Zealand in the Valeri Liukin Open Invitational in Dallas, Texas, USA and topped the competition as the Champion for his level.
Kenzo, who was born in the Philippines, is a Year 10 student at Westlake Boys High School. According to his family, gymnastics has been a way of life for Kenzo. "He has been practising at North Harbour Gymnastics since he was 5 years old. This has moulded him to be disciplined in how he takes care of his body, how he manages his time and how he deals with challenges that confront him as a student and as a maturing young adult."
His Filipino family's support was pivotal in paving the way for the journey towards being a champion. As most sports people will attest, the road to excellence is not easy. It can be physically gruelling, time-consuming and financially draining, however, the rewards are seen from the perseverance that leads to confidence and self-esteem.
Carry the New Zealand flag, but keep the Filipino spirit in your heart.